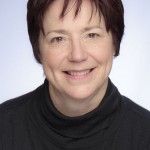 Claire Gebben
was born and raised on the southeast side of Cleveland. After earning her BA in Psychology from Calvin College in Grand Rapids, she eventually settled with her husband in Seattle. She's worked as a newspaper columnist, newsletter editor, and ghostwriter, all the while raising a family and pursuing her first love of writing. In 2011, she earned an MFA in Creative Writing through the
Northwest Institute of Literary Arts
(NILA) on Whidbey Island, WA. Her writing has appeared in
Shark Reef
,
The Speculative Edge
,
Soundings Review
,
The Fine Line
, and the January 2015 issue of
Family Chronicle
genealogy magazine (now called
Your Genealogy Today
), among other publications. She has been a columnist on writing, reading, and publishing for
The Mercer Island Reporter
. Her family history memoir
How We Survive Here: Families Across Tim
e is due for release from Coffeetown Press in November of 2018.
For more info, visit her
web page
.